VXDIAG 4 in 1 Diagnostic Tool for Toyota, Ford, Mazda, Landrover Jaguar
06-30-2020, 06:07 AM
serenaobd
Member


Posts: 138
Joined: Mar 2019
Reputation: 76


Thanks: 3
Given 208 thank(s) in 32 post(s)

VXDIAG 4 in 1 Diagnostic Tool for Toyota, Ford, Mazda, Landrover Jaguar
VXDIAG muti diagnostic tool for Toyota, Ford, Mazda, Land Rover and Jaguar 4 in 1, supports DoIP and WIFI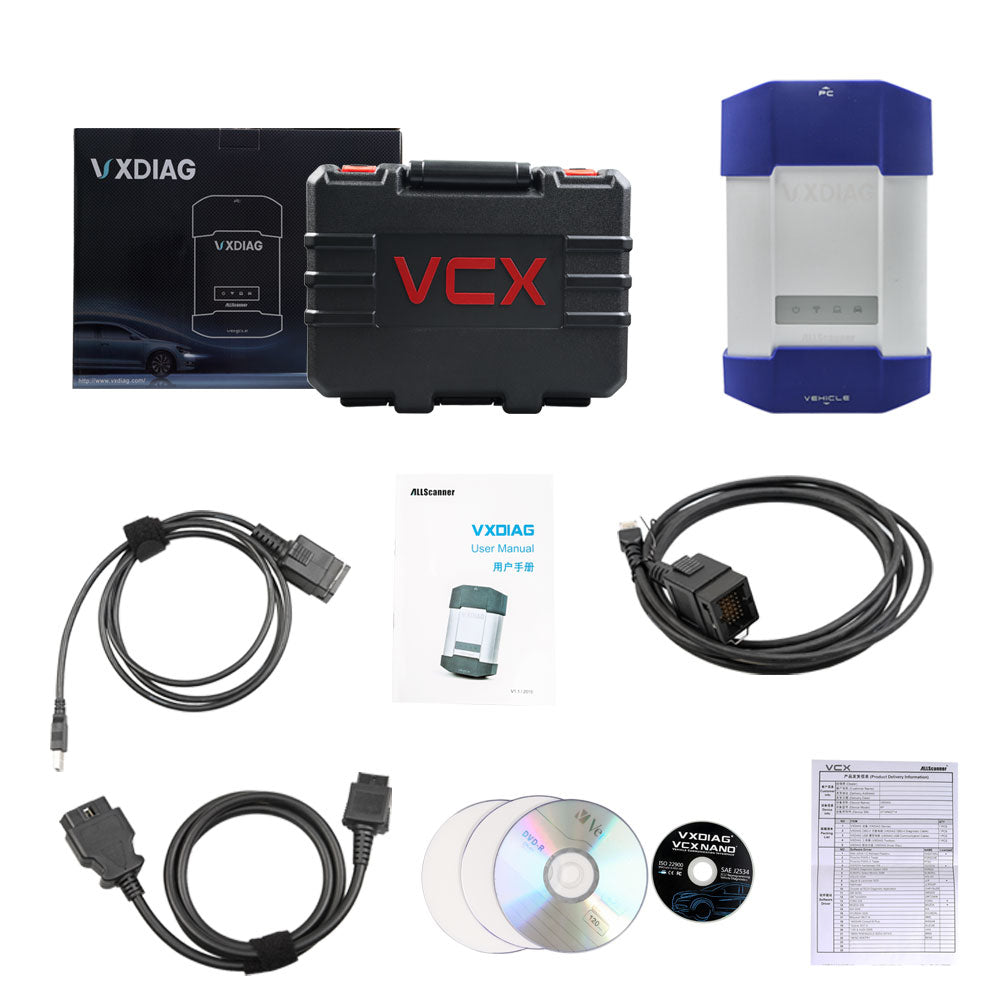 Software version:
Toyota V12.019
Ford/Mazda IDS V109
Jaguar/Land Rover JLR V153
With this VXDiag firmware, you can add more original software, only need buy authorization from us. Already released original software authorization has
VW, Volvo, GM, Honda, BMW, Subaru, Porsche and Benz .
VXDIAG Multi Diagnostic Tool support all original software function.
TOYOTA Techstream Functions and Descriptions:
1. Fully compatible with SAE J2534
2. Fully compatible with Toyota TIS Techstream
3. Supports Diagnostics, and Active tests.
4. Supports most 1996 and newer Toyota to 2019, Lexus, and Scion vehicles with OBDII / DLC3 diagnostics
5. Software: V15.00.026
Ford VCM II IDS Function:
1. Programming & Installation of new ECUs (PCM, ABS, Instrument Cluster, Air Bag, Fuel Pumps, etc.)
2. Live Data-stream with Recording and Playback Functions for Main ECUs
3. Read & Clear Diagnostic Trouble Codes (DTCs)
4. Set, Adjust or Remove Speed Governors
5. Automatic vehicle recognition
6. New Software Re-flash for Existing ECUs
7. All Other Dealer Functions
8. Steering Angle Resets
9. Guided Fault Finding
10. Program New Keys
11. DPF Regeneration
12. Brake Bleeding
13. Injector Coding
Note: do not supports all key lost, need at least one key.
VXDIAG Multi Diagnostic Tool Supported Protocols:
ISO-9141 K-Line
ISO-14230 K-Line
ISO-15765 CAN
SAE-J1850-VPW (GM Class2)
SAE-J1850-PWM (FORD SCP)
ISO-11898-2 DWCAN
ISO-11898-3 DWFTCAN
SAE-J2411 Single Wire CAN (GMLAN)
SAE-J2610 SCI (Chrysler)
SAE-J1567 CCD BUS (Chrysler)
SAE-J2740 GM ALDL
SAE-J2809 (HONDA DIAG-H)
CAN125/CAN250/CAN500/CAN1000
SAE-J1939 CAN
SAE-J1708/J1587 On RS485
CAT DATALINK (Catepillar)
ATA DATALINK (Catepillar)
Feel free to pm me if you are interested in.
---
If you think I'm helpful, please give rep + thanks
Serena VXDAS.COM
User(s) browsing this thread: 1 Guest(s)