ETKA 8.2 OEM September Release incl. Crack [+ACTIVATION!] - NO PASS!
09-11-2020, 01:09 PM
(This post was last modified: 09-15-2020 01:03 AM by XTR3M3.)
XTR3M3
Member


Posts: 32
Joined: Aug 2020
Reputation: 142

Thanks: 1
Given 178 thank(s) in 15 post(s)

ETKA 8.2 OEM September Release incl. Crack [+ACTIVATION!] - NO PASS!
ETKA 8.2 -

E

lektronischer

T

eile

ka

talog / Electronic Parts Catalogue
This is the September OEM Release of the VW/SEAT/SKODA/AUDI Electronic Parts Catalogue incl. my crack,
which you can use on every Windows 7/8/10
32Bit/64Bit
native or virtual System.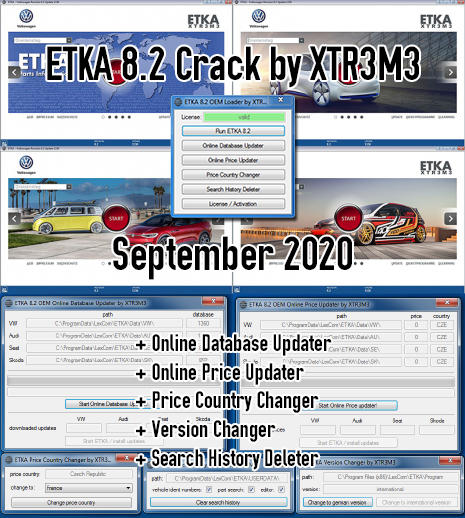 Size packed: 8,5 GB [500MB parts]
Each brand can be downloaded and installed separately!
VW: 1351
Seat: 877
Skoda: 883
Audi: 1351
Commercial Vehicles: 1351
The crack includes online database updater, online price updater, (worldwide) price country changer, version changer and search history deleter.
Price data (as of September 10th, 2020) can also be installed with the crack or downloaded separately by online price updater.
In addition, the user interface design can be changed with the crack (4 themes to choose from, see picture above).
Exclusive feature: The installed updates will never expire again. With every licensed start of the ETKA Loader, the validity periods are set up to the year 2037!
After applying the crack you can use ETKA for up to 15 days without licensing. During this time it is not possible to download or install updates, it is only used to see if it works correctly.
If you want to use ETKA completely (i.e. download and install updates etc.), you have to enter a name and HWID bound serial.
How to get the serial?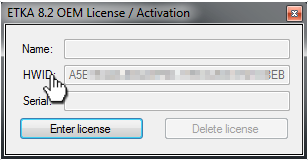 Hint: Clicking on the HWID label will copy your HWID to the clipboard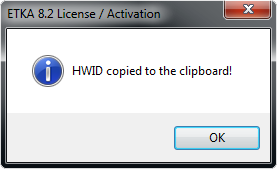 Copy your HWID from the Loader ("License / Activation") and post it with your name here.
You will receive an HWID generated serial for activation as fast as we can.
Please note that

only

gargamel and me are able to generate the serials!
Why this procedure?
So that my work is not offered for sale again.
NO PASS!!! Feel free to give REPUTATION +1
and
to this post.