*2021* ETKA 8.3 Setup (OEM February Release) incl. Crack + VIN search + Keygen
11-26-2020, 02:37 PM
(This post was last modified: 03-21-2021 11:07 AM by XTR3M3.)
XTR3M3
Member


Posts: 477
Joined: Aug 2020
Reputation: 1979

Thanks: 8
Given 2744 thank(s) in 234 post(s)

*2021* ETKA 8.3 Setup (OEM February Release) incl. Crack + VIN search + Keygen
ETKA 8.3 -

E

lektronischer

T

eile

ka

talog / Electronic Parts Catalogue
This is the (end of) February 2021 OEM Release of the VW/SEAT/SKODA/AUDI Electronic Parts Catalogue incl. my crack,
which you can use on every Windows 7/8/10
32Bit/64Bit
native or virtual System.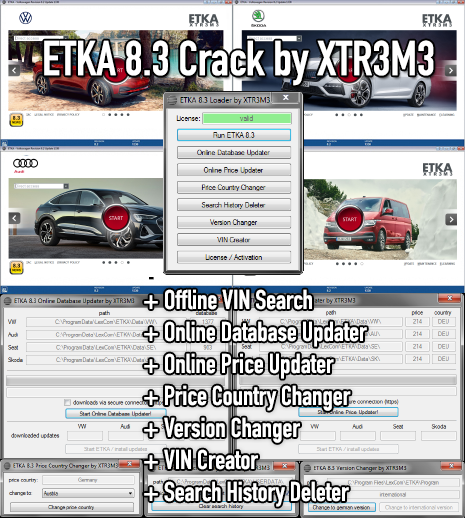 Size packed: 8,9 GB
Each brand can be downloaded and installed separately!
VW: 1387
Seat: 913
Skoda: 919
Audi: 1387
The crack includes online database updater, online price updater, (worldwide) price country changer, version changer and search history deleter.
Price data (as of March 3rd, 2021) can also be installed with the crack or downloaded separately by online price updater.
Exclusive feature: The installed updates will never expire again. With every licensed start of the ETKA Loader, the validity periods are set up to the year 2037!
After applying the crack you can use ETKA for up to 14 days without licensing. During this time it is not possible to download or install updates, it is only used to see if it works correctly.
If you want to use ETKA completely (i.e. download/install updates, Offline VIN Search, etc.), you have to enter a name and HWID bound serial.
---
The offline VIN search is enabled in this version!
Many thanks to
Invisibly
for the solution.
So be so kind and leave him a good reputation!
---
The archive with KG at the end of the filename contains the crack, the keygen and the read me (read it carefully!!!!).
---
Hardlock Error:
it's important that Windows Defender and antivirus programs are deactivated during the cracking process, because the emulator is detected as false positive
make sure you have chosen the proper emulator (x64/x86/OS)

No display of the HWID or debugging error:
install the latest Windows updates
install .NET framework 2.0
install .NET framework 3.5
install .NET framework 4.0
install .NET framework 4.5
install Visual C Redistributable
install Microsoft Visual Studio (at least Visual Basic Express)
scan Windows for corrupt system files
if you use VirtualBox, then use VMware instead of it

The entered license is not valid:
make sure that you do not accidentally insert spaces
make sure that you have entered the correct name
make sure you have correct serial (ETKA 8.2 Serial doesn't work!)
Error 1920. Service LexCom Update Service failed to start:
run the setup as administrator
copy the files from "Install_Prog" folder to local harddrive and run "Etka_Setup.exe"
Not all installed brands are available in ETKA:
it's important to install the brand DVDs first and only after that apply the crack
Offline VIN search does not work properly:
the vehicle must be created in VIN creator before
make sure that you have entered all the specs in the vin creator correctly
---
Note:
The loader might be detected as false-positive by a few antivirus programs or windows defender.
This is simply because it is obfuscated (similar to crypted) to make it harder to steal the (source) code.
---
NO PASS!!! Feel free to give REPUTATION +1
and
to this post.